Dr. Ebru Gencer, Executive Director of CUDRR+R, will participate in a panel discussion on February 17, 2017, as part of the Water Resilient Urban and Regional Development symposium.
The symposium will take place February 16-18, 2017, and is hosted by the University Alliance Ruhr in New York. The symposium's focus will be on the role of water at the interface of urban and rural territories. Dr. Gencer will be one of several planning and research experts to participate in the three day event, during which participants will compare best practices of design and urban planning solutions implemented in both the United States and the Ruhr area of Germany, and identify future research opportunities.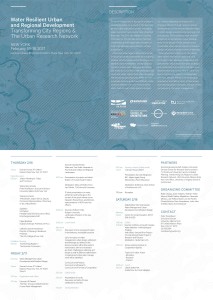 To learn more about the public portion of this event or to register to attend, click here.